The Only Pressure Therapy with Back and Neck Treatments
A new treatment, a new concept.
Dorsal+, is the most complete and versatile pressotherapy equipment on the market thanks to its dorsal system, the only one with treatments for back and neck.
The Dorsal system has three programs for back and neck treatments with heated zones and vibrating zones that will allow you to regulate the session helping to eliminate lumbar pain and muscle fatigue in the back.
Pressotherapy is an aesthetic treatment that uses air pressure to perform lymphatic drainage improving oxygenation throughout the body, this effect being a great benefit in itself for the entire body.
It stimulates the circulatory system facilitating the elimination of cellulite and improves the tone and firmness of the skin thanks to the increase of oxygen in blood achieving greater nutrition of the tissues.
A DEVICE DESIGNED FOR YOU
Made in Spain
Our Dorsal+ team is the only pressotherapy with back and neck treatments.

DISCOVER THE ONLY PRESSOTHERAPY
with Back and Neck Treatments
The great innovation in Ópphalo, Dorsal+
Hands-free mode: Control your Dorsal+ equipment through the "voice activation". You can choose the type of treatment, start it or stop it. Turn up or down the music…etc. just send voice commands to the computer.
Its 10 programs for pressotherapy body treatments: 9 predefined and 1 free are suitable for all types of sessions. You can set the pressure individually by cameras using its three modes: intense, medium and soft.
In addition, it has 3 extra programs for back and neck treatments: 2 predefined and 1 free that have three heated zones and two vibrating zones that will allow you to regulate the intensive, medium and soft treatment.
Musico-therapy.Dorsal+ consists of a usb input so you can add your own music to your sessions and even perform therapies with it.
Three specific programs for

Back and Neck

Treatment
Ten programs of pressotherapy
A device with the latest Opahalo technology
This equipment is capable of exerting, a maximum pressure of 90 mm Hg thanks to its 24 air chambers 12+12
Technical Characteristics
The latest advances in technology
Specifications:
General power supply: 230 VAC / 50 Hz
Maximum power: 460w.
Output pressure: adjustable 20 mbar – 250 mbar.
External protection: fuse 10 amp – 250v x 1.
Classification: class 1.
Output features: air massage, dry heat and vibration.
Dimensions: 125 x 45 x 34 cm (height x width x bottom).
Display: 10¨ touch LCD.
Weight: 32 Kg
Ambient temperature: -10ºC to +55ºC.
Operating temperature: +5ºC to +40ºC.
Ambient relative humidity: from 10% to 90%.
Relative operating humidity: from 30% to 80%.
Atmospheric pressure: 500 to 1060 hpa.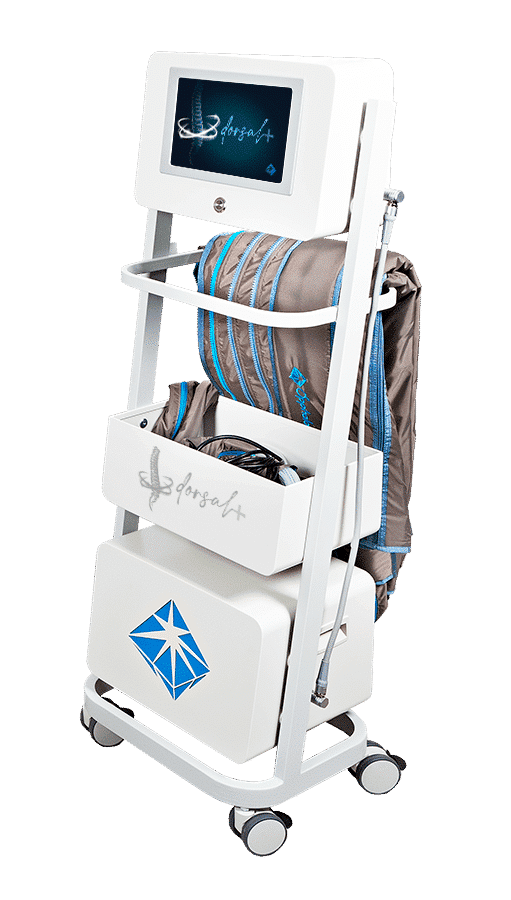 We present you other Ópphalo devices